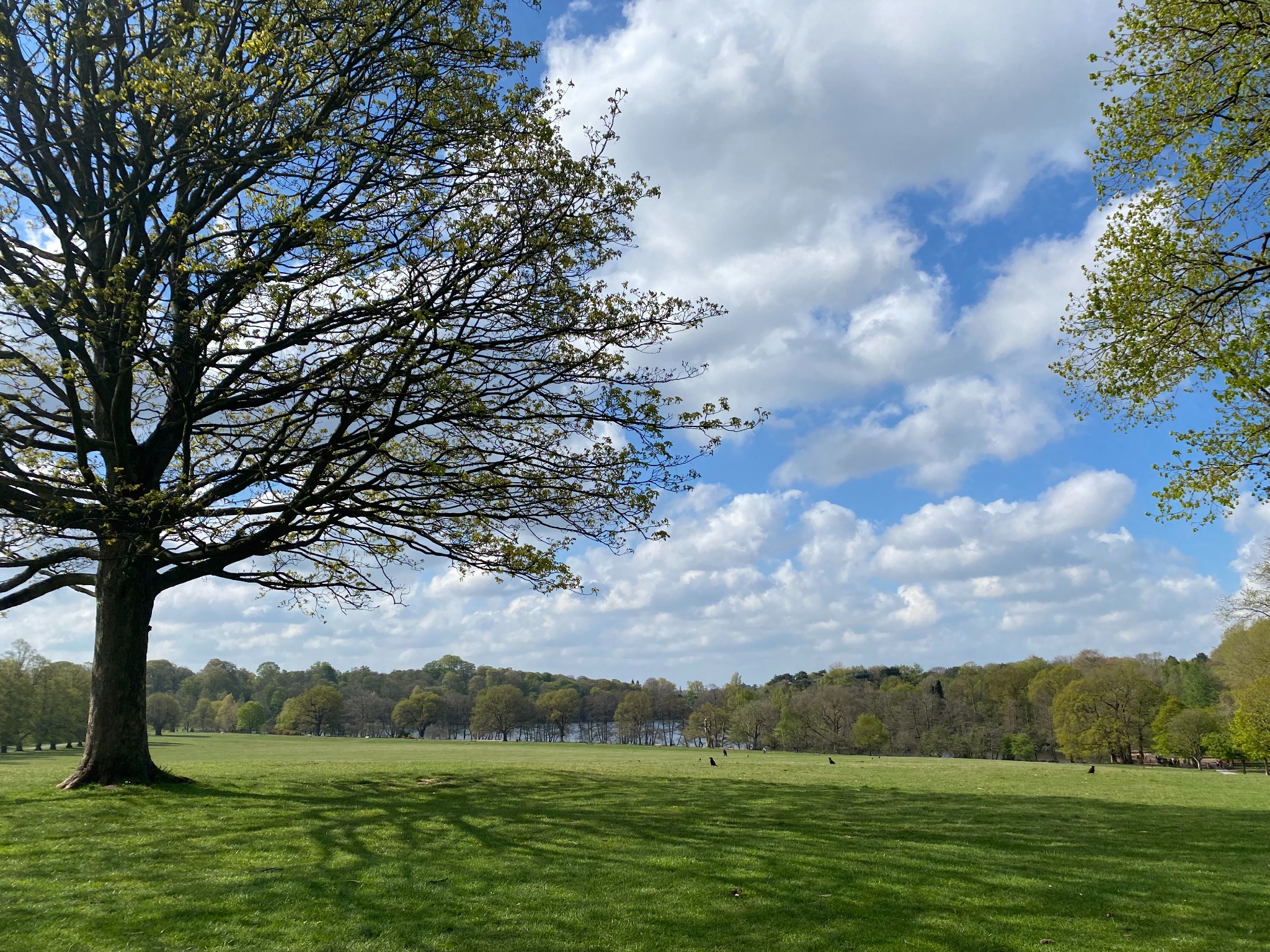 ← Back
View from the park bench
Quite unintentionally, I've found myself firmly in the centre of what could be a famed Bob Ross landscape painting.

The artist and star of lockdown saviour show The Joy of Painting was renowned for his canvases of endless lakes, greenery, and clouds as fluffy as his signature crown of hair.
To borrow from Bob's soothing vocab, happy little trees dominate my view. If I felt moved to paint the scene stretching ahead of me, not nearly as skillfully as Bob, I hasten to add, I'd need only a limited colour palette. Granny Smith apple green for the grass and abundant leaves, vivid (cerulean?) blue for the sky, and a dash of rich brown for the chunky tree trunks. The whole vista screams spring, the sun dousing everything in an optimistic shimmer.
I picked this ragged wooden picnic bench in Wollaton Park, Nottingham entirely at random, a convenient perch on which to recover from my freshly completed woodland and lakeside 5k run. It seems I chose well, overlooking an expanse of lawn leading down to the glistening lake, part-obscured by its encircling cluster of imposing oak trees.
It's 8am-ish on a Sunday in late April, but the spring-like scenes are deceptive. What looks like comfortable jeans and t-shirt weather is frequently interrupted by an icy blast, a reminder that although it's not far off, summer's not for showing just yet.
My banana remnants and takeaway flat white cup, post-run rewards, need regular rescue as a sneaky gust sweeps them perilously close to the table's edge. A crow pecking about the grass near my feet swivels his beady eyes hoping to take advantage of any spillage.
The park's enjoying those magical early hours of a lazy Sunday, with dog walkers and runners the first of a slow trickle into life. It's like we're members of an exclusive early risers' club. There's a hum of low-key activity as the park's food and drink suppliers open shutters and prepare for business. Spicy samosas from Momma (of Sat) Bains' food truck are filtering in from my right. From the dinky grey coffee van parked down the grassy slope by the banks of the lake seeps a roasted bean aroma.
Other than the odd excitable bark, and squawk from the hungry crow and his pals, it's the wind howling through the trees soundtracking an otherwise serene Wollaton this morning.
Gradually, the park begins to populate with weekend walkers sensibly wrapped in late-season winter coats, signalling the end of the elite early riser's gang. Still, I regret not having brought some warmer post-exercise wear. If not for my hands turning slowly mauve without the heat from my coffee cup, I'd gladly sit here inhaling the fresh air and the atmosphere all day. In the wise words of Bob; "No pressure. Just relax and watch it happen."
Explainer! This piece is an exercise from the excellent Bradt book The Travel Writer's Way. Called Take Me With You - it encourages description of sights, smells and sounds etc, hopefully helping the reader to join you in any given location. Completed to try and shake myself out of a spell of writer's block. And it seems to have worked!